Have Question? Call Us Now
(954) 318-7940
Español
High Limit Accident Insurance
Accidents occur more often than you think, don't leave your loved ones unprepared. Get insurance coverage that makes sense. Apply online for an Accidental Death Insurance policy with Atlas Underwriters.

| | |
| --- | --- |
| High Limit Accident Insurance Quote | |

How many hours flown in last 12 months?
Estimated hours flying in the NEXT 12 months?
Privately Owned
Third Party Charter Service Company
Do you hold a valid instrument rating?
Purpose of current flying
Total hours flown as a pilot/crew member
Total hours flown last 24 months
Total hours expected to fly next 12 months
What aircraft do you currently fly (full description)
Total hours in aircraft currently flying
Do you expect any change your flying plans or aircraft flown in the next 12 months? (No/ If Yes, Please explain)
Do you engage in any of the following aviation activities (Check all that apply)
Flight transport
Charter
Survey
Sight seeing
Stunt flying
Helicopter
Commercial photography
Flight instructor
Aerobatics
Mapping
Crop dusting
Other
:
Date of last renewal of certificate
Has your medical certificate ever been denied?
(No/ If Yes, Please explain)
Have you even been in an accident, been fined or grounded for a violation or air relations? (No/ If Yes, Please explain)
Please describe any other additional flying experience not mentioned above
Accidental Death Insurance
What Does an AD&D Policy Cover?
Accidental Death insurance covers your death as a result of a covered accident. We do offer several different types of accidental death coverage:
24 Hour Accidental Death – Is basically round the clock coverage anywhere around the world. This is the most comprehensive coverage available.
Common Carrier Accidental Death – Provides coverage when traveling as a passenger on any form of public transportation certified as a common carrier of passengers, including air travel.
Flight Accidental Death - Provides coverage only when traveling on a passenger aircraft provided by a commercial airline on a regularly schedule, special or charted flight operated by a properly certified pilot.
Why Accident Insurance?
Accidents can happen anywhere, accidental death insurance provide essential protection to help ease the financial burden should the unexpected happen. Keep in mind accidental deaths are the fifth leading cause of death in the United States and Canada*, an accidental death policy can provide financial peace of mind at a very affordable cost.

* Accidents or Unintentional Injuries by Centers for Disease Control and Prevention, January 2012
Additional Specialized Coverage Riders:
| | | |
| --- | --- | --- |
| Dismemberment | Permanent Total Disability (PTD) | Medical Expenses |
| War & Terrorism | Private Aircraft Passenger | Hazardous Countries |
Accidental death and dismemberment insurance (AD&D) offers protection for you and your family if you are seriously injured or killed in an accident. An AD&D policy provides financial benefits in the event you are killed, lose a limb, become blind, or are paralyzed in a covered accident.
Get covered today! With no medical exams required, long application forms to complete or waiting periods to deal with, apply and be automatically approved in minutes. If you are between the ages of 18 and 80, you are guaranteed approval, regardless of your health or occupation.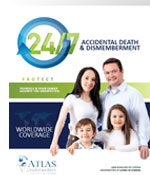 If your download does not start automatically, or popup blocker is active,
click here
Plan Special Features:
High Limits Up to $50 Million

30 day money back guarantee

No Medical Exam Required!

Must be between 18-75 years of age

Automatic Approval regardless of health

Life & accident protection in minutes!

Benefits are paid in addition to any other existing policy