Have Question? Call Us Now
(954) 318-7940
Español
Fine Art Insurance
What is Fine Art Insurance?
Fine Art Insurance offers protection against loss or damage, no matter the size, type of artwork, or location. Accidents happen at the least opportune moment regardless of the security measures in place. It is important to have the proper insurance in place to secure such a rare investment.
Protection Against: (Up to USD $100,000,000)
Fire
Flood
Loss in the Mail
Natural Disaster
Theft
Burglary
Accidental Damage or Breakage
Other damage or loss, unless specifically excluded.
Our Underwriters are ready to assist you.
Our team of underwriters has the insurance experience to address any risk. Knowledge of industry laws and practices helps us ensure your property is insured to market value.
Coverage extends to include the following:
Paintings
Etchings
Pictures
Tapestries
Art glass windows
Rugs
Statuary
Marbles
Bronzes
Antique furniture
Books
Antique silver
Manuscripts
Stamps
Porcelains
Coins
Bric-a-brac
New acquisitions receive immediate coverage; up to 25% of the total amount insured (Up to USD $5,000,000) if underwriters are notified within 60 days and insured pays the extra premium to make coverage effective.
Exclusions
The underwriters are only liable to the extent that any other valid insurance would fail to cover any claim if this insurance had not been issued.
This insurance does not cover:
Loss or damage caused by or resulting from: natural ageing, gradual deterioration, inherent defect, rust or oxidation, moth or vermin, warping or shrinkage;
repairing, restoring, retouching, or any similar process; (aridity, humidity, exposure to light or extremes of temperature unless such loss or damage is caused by storm, frost or fire.
Loss from or damage in or on unattended vehicles, unless in the custody of a competent professional carrier.
Electrical or mechanical fault or breakdown.
The amount of the deductible stated in the schedule for each and every loss.
Loss or damage or liability directly or indirectly occasioned by, happening through or in consequence of war, invasion, acts or foreign enemies, hostilities (whether war be declared or not), civil war, rebellion, revolution, insurrection, military or usurped power.
Loss or damage caused by or resulting from confiscation, nationalisation, requisition or destruction of or damage to property by or under the order of any government or public or local authority.
Loss or destruction of or damage to any property whatsoever or any loss or expense whatsoever resulting or arising there- from or any consequential loss, any legal liability of whatsoever nature, directly or indirectly caused by or contributed to by or arising from :

ionising radiations or contamination by radioactivity from any nuclear fuel or from any nuclear waste from the combustion of nuclear fuel,
the radioactive, toxic, explosive or other hazardous properties of any explosive nuclear assembly or nuclear component thereof,) nuclear reaction, nuclear radiation or radioactive contamination.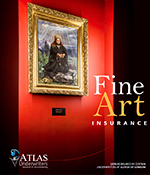 If your download does not start automatically, or popup blocker is active,
click here
Highlights
No Deductible
Replacement
Restoration
Lost Value
In Storage
On Premises
In Transit Coverage
Unnamed Location Coverage
Loss Buy Back Provision
New Acquisitions
Wall to Wall Coverage
On Loan/Consignment
Itemized or Blanket Coverage
Choice of Settlements in event of loss