Have Question? Call Us Now
(954) 318-7940
Español
Equine Insurance
What is Equine Insurance?
Equine insurance protects your horse(s) / investment(s) from death, theft, accident, medical risks and much more. Whether its for work, breeding, show, or pleasure, owning horses requires a substantial investment and with so much at risk, you need an equine insurance policy that provides coverage to protect your horses(s).
Benefit
Equine mortality
Death as a result of injury, illness, or disease. Other specified perils include accident, fire, lighting, windstorm, hail, and more.
Theft
Usually included with the mortality benefit. Covers loss or death due to theft.
Transit
Extends mortality coverage to include international transportation or travel to and from other approved countries.
Stallion permanent disability Protects the owner if the horse becomes injured or ill and cannot fulfill its duties or insured use.

Stallion first season infertility
Stallion becomes permanently incapable of settling mares in foal as a result of accident, sickness or disease.
Stallion availability
Stallion is unable to cover the mare for breeding as a result of death, disablement, illness, or disease.
Named perils
Stallion loss of income
Major medical / Veterinary fees
Medical and surgical expenses due to accident, injury, illness or disease.
Emergency colic surgery
Cost of colic surgery, in addition to other related expenses (post-op hospital care, vet fees, and medications).
Barrenness
Coverage in the event the Mare is unable to conceive. Usually written in conjunction with the Prospective Foal benefit.
Prospective foal
Covers the breeding expenses if Mare does not give birth. Covers the live foal for a specified period of time after birth. Mare that is declared in foal at least 42 days.
General Liability
Covers the legal, defense, and judgement in the event you are sued for injury or property damage by a third party.
Semen storage
Your horse is as much a personal investment as it is a financial one. Do not be caught off guard by an unexpected loss; make sure your horse is covered againts a range of risks including death and sickness.
Offering up to USD $ 5,000,000 in tailored equine protection

Type of Horses:
Thoroughbreds
Standardbreds
Quarter Horses
Sport Horses
Hunter Jumpers
Show and Leisure Horses
Western Horses
Payment plans with no additional fees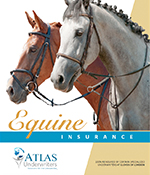 If your download does not start automatically, or popup blocker is active,
click here