Have Question? Call Us Now
(954) 318-7940
Español
Boat & Yacht Insurance
There's nothing quite as pleasurable and exhilarating as cruising around the world in a super- luxurious yacht equipped with world-class amenities. But yacht ownership is not just about sailing the ocean. Instead, there are a number of risks and responsibilities involved as well.
At Atlas Underwriters, we want you to have a worry-free experience of exploring the waters. Therefore, we help you find a comprehensive marine insurance policy that can provide you financial support in case of damage to your boat, as well as for injury to you or one of your passengers.
What is Yacht Insurance?
Yacht insurance offers protection against accidental loss or damage to yacht or pleasure boat owners. It provides coverage for bodily injury, as well as damage to personal property on the boat. Some insurance policies also cover the cost of towing, gas delivery, and assistance in case a yacht gets stranded while at sea.
What Does Yacht Insurance Cover?
At Atlas Underwriters, we understand that every yacht has different coverage needs. Therefore, we draw on our extensive experience of providing the most comprehensive marine insurance policies to the yacht industry to devise a customized, cost-effective policy for your yacht and crew.
Generally speaking, yacht liability insurance policies cover anywhere from $100,000 to $1 million in damages. Most yacht insurance policies cover the cost of:
Bodily injury to uninsured boaters
Damage to personal property, including, but not limited to, clothing, cameras, stereo systems, and other personal items
Fuel spills
Mechanical breakdowns
Physical damage due to collision with another boat or a submerged object
Towing, gas delivery, and roadside assistance
Because no two yacht owners have the same needs, additional coverage extensions can be provided to offer protection against a diverse range of risks. Common coverage extensions include, but are not limited to the following:
Protection for charters
Environmental damage
Bodily injury to paid crew
Protection for extended navigation
Hurricane escape reimbursement
Exclusions
All marine insurance policies have exclusions. Excluded items vary depending on the insurance company you choose to work with, but generally include:
Defects in the design of a boat or yacht
Loss caused by blistering or osmosis
Loss caused by corrosion, except electrolytic corrosion
Loss caused by denting or scratching
Loss caused by marring
Loss caused by mold, animals, insects, and marine life
Loss caused by wear and tear
Loss caused by weathering
In addition, most yacht insurance policies do not offer coverage for latent defects that may be present in a vessel. However, damage resulting from the defect is covered by most marine insurance policies. For example, if your water pump is defective, your yacht insurance policy will not offer coverage for replacing or repairing the water pump, but will pay for resulting damage to the engine.
To learn more about yacht insurance policies or to schedule an appointment with Atlas Underwriters, please call at (954) 318-7940.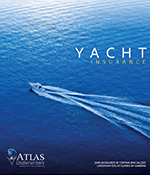 If your download does not start automatically, or popup blocker is active,
click here
Highlights
Emergency Towing Coverage
Machinery Coverage
Accident Response
Consequential Protection